Every Miami medical office has thousands of files that they must dispose of every year. Whether they are patient files or business records pertaining to your practice, you still need to make sure that you dispose of them properly to protect yourself and your patients.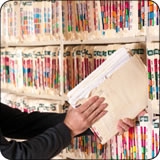 There are HIPAA guidelines in place to make sure that you do not jeopardize any of your medical office's information. The only way to make sure that your documents are destroyed properly is to get them shredded. Here in Miami, we specialize in medical shredding so that your office doesn't have to worry about all of your records. Shredders make sure to follow all HIPAA guidelines so that you never have to worry about anything getting into the wrong hands.
Shred trucks not only come to your office for you, but they can also actually shred onsite so that you can see everything being destroyed. They can also shred x-rays so you do not have to find a separate location to shred these items.
Once everything is shredded, we make sure to give you a Certificate of Destruction for your records. They make sure to recycle all of the scraps when they are done to ensure they are thoroughly destroyed for you.
Get Free Quotes on Medical Shredding Services in Miami
If your Miami medical office is being overrun in paperwork and you are ready to properly dispose of all of your records, give us a call at (305) 748-2558 and we can help get you a free quote today!